On the 7th of February me, my mum, sister and friend ventured out into freezing cold to see the magical show that is Totem. My last experience of this acrobatic fete was in 2006 when Alegria came to London. If my memory serves me correctly it was the most spectacular show I had ever seen, superb music, non of which I could understand. Bright stage lights and a brilliant story line that kept me engaged throughout the 2 hour spectacle.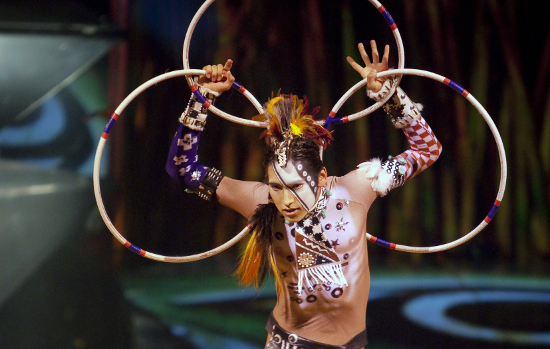 Zooming back to the future, Totem was amazing!!! Incase my overuse of exclamation marks didn't explain, I absolutely loved it. The shows strong theme of evolution of humanity took the audience along with it to several different continents. The clowns were hilarious, I've always admired Cirque du Soliel's ability to break out of the red nose, big hair and shoes routine and create clowns that blend in with show and entertain the audience.
My highlight of the show was the romantic trapeze act that left me squirming in my seat. The acts dabbled with romance, seduction and playfulness associated with young love. In simpler terms, it was hot! The music was so enticing I'm so sure I didn't blink throughout the glorious 2 minutes of artistic expression.
I really enjoyed my night and would encourage anyone to see this show, or any Cirque du Soliel show for that matter. The amount of time, skill and effort put into this show is exceptional. The incredible projections, stage lights, props and costume definitely contribute to this great show.
Cirque Du Soliel TOTEM | 4 STARS